Elementor is really worth it. Yes, of course, it is one of the WordPress Website Builder, with over 5 million active installs. Create beautiful sites and pages using a drag and drop interface and best page builder plugins you can install and use it.
Because the features in Elementor is very extraordinary and very amazing. It will help you to create the beautiful pages, and the force. And you can even create a best landing pages by this Elementor Pro.
Do you know, all the top bloggers are nowadays, using Elementor Pro as the number one key to success for their blogging. Elementor Pro comes with a lot of features, and you can start with a basic free version and then Try Elementor Pro.
I personally use so far the various things in my blog is to create a landing pages and to create other pages or blog posts. You don't need any CSS or HTML code to do it, Elementor is very user friendly, you can easily can learn within a few hours. You don't don't require extraordinary skills. it is just drag and drop.
What is the Elementor in the Word Press?
Elementor is the Page Builder, where you can design your page or you can even
create a beautiful website through the Elementor. It is very easy to use, and Elementor is. you can create your homepage very attractive.
There are so many benefits of the Elementor. Elementor comes with an basic version also that is free version, you can download from the WordPress Plugin Section, and once you log into the WordPress, you go to the Add a section,
add to the plugins, go to the plugins section, add a new plugin. Click on the add new plugin and here just click on the add new plugin and search for the Elementor, you will get the icon there just go and install this one. And if you can start using the Elementor with a basic version. There are not so many options available, but once you use the elemental Free version try to use Elementor Pro. It is Awesome. I personally use to create the landing page and home page for many of my website.It will be very beneficial, try to use the Elementor Pro version.
👉 Check Out : 25 ways to Increase Website Traffic 2021
👉 Check Out : Free SEO Checklist e-book Download 2021
Elementor Pros and cons
Elementor has many uses as follows it's makes visually beautiful and due to Elementor Pro you No need to think about CSS and JavaScript.
Elementary is very easy like a drag and drop to create a beutiful website Elementor Pro version has a library of templates and blocks, the pre designed blocks which you can use very easily and there are many templates are available for call to action which you can use in easy way for examples signups or email signups & for purchasing.
like there are third party templates are also available which you can use in pro version also has optimised your website if you are using elemental pro can optimise your website with the help of elemental Pro.
Elementer Pro can also be used for editing mobile devices there are many tools available which you cannot use for editing your website for mobile devices. elemental pro can easily be edited for mobile friendly websites.
There is no restriction for editing it gives complete freedom for website editing. There is Hello theme which you can use and edit completely as you need for website.
Elementor Pro cons
There are only few cons available for elemental pro.
Elementor pro take full control on your website that means You cannot use other tools while using elementor Pro unlike its competitors
free version of Elementor cannot be used for editing of blogs and many things you can't use in free version.
And Elementor Pro need little time for learning as it has too many features.
While using Elementor pro if you install plugins bad way it will take too much time to load or it wont load which will affect SEO of your website.
Elementor Pro pricing,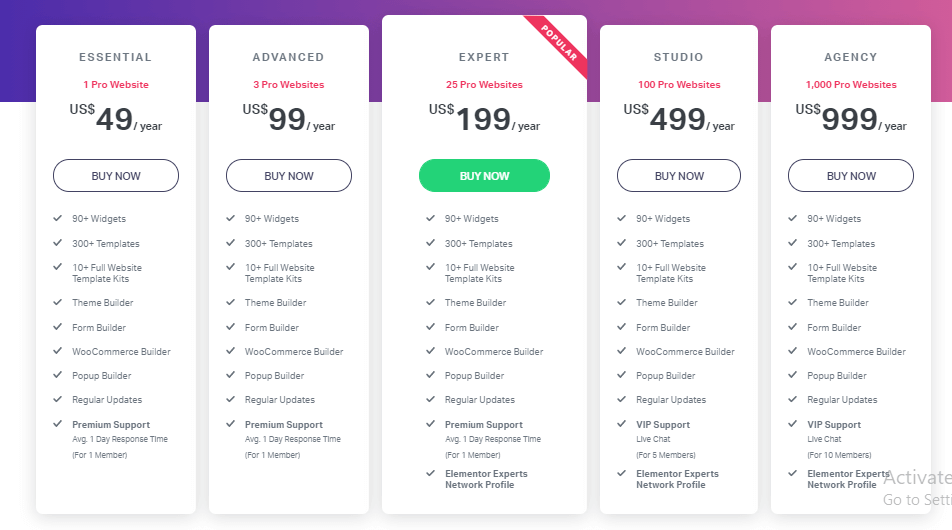 1 pro website for 49 US dollars
3 pro website 99 US dollars
25 Pro website 199 US dollars
100 Pro websites for 499 US dollars
1000 Pro website 999 US dollars
Check Out Full Details – Click Here
Elementor pro is worth it?
Elementor Pro is worth each and every penny if you start using Elementor Pro start with a free version of it free version will give you certain things which makes your experience amazing after starting with a free version you understand that without elementor pro your online journey is too tough and you will get addicted to it.
According to me you just start using it and you can't stop using it.
Elementor pro has so many options for all kind of websites where you need to just use drag and drop options or libraries of plugins & blocks.
If you have business website or affiliate website then Elementor Pro is the best option because it will create a beautiful website, blog, which attract visitors who very much likely to get converted due to the elemental Pro.
Now you are website look amazing. The people visiting are definitely get converted as therefore business websites elemental Pro is outstanding. And if you are getting traffic due to elementor pro then the pricing of elementor pro looks like penny. They are getting converted due to Elementor pro so you can easily invest in Elementor Pro.
If you want beautiful website you should have knowledge of CSS & JavaScript which is tedious and also time taking to avoid that elementor pro is easy way if you think you can take help of web developers who has knowledge of CSS & JavaScript .
They will charge too much money and over it your prices time will get lost to save time money energy you can use elementor pro.
FAQ's:
Do I need Elementor if I have Elementor pro?
Yes, You should not delete the Elementor free version. even if you have elementor.
Is Elementor any good?
Elementor pro is one the best website and page builder you can find in the internet.
What is the difference between Elementor and Elementor pro?
The Elementor Free version allow you to change only content part only and has little features. But, Elementor pro version You can create a custom header, edit sidebars, redesign your footer, and even create custom layout pages.
Is Elementor Pro worth getting?
Yes! ofcourse First, try the free version of the Elementor. Once you use free version. then, Try elementor pro.