Hi Friends, Do you Run a Podcast and Your mic is not good. are you search for a Good microphone. Which should have good voice outcome. here is the best Maono AU-A04 Condenser Microphone 2021.
It is one the Best Microphone used by the Podcast Hosting peolpe's.
Best Podcast Microphone 2021
You may be wonder why good microphone is so important. Many studies states that the good voice can improve listener's listening power.
Many people say if your content is good than people automatically will listen to you but it is not completely true people prefer soothing voice.
            You may be thinking we are not a singer are anything why do we need costly microphone. Let me tell you now a day's good microphones are available at affordable price range and another thing song is just for entertainment but podcast is for knowledge sharing so it should be good to listen.
I will prefer one product which is affordable and best. You may be thinking how do I know this product is good because I am using this and many podcasters use this product and also recommend this microphone.
Maono AU-A04 Condenser Microphone Kit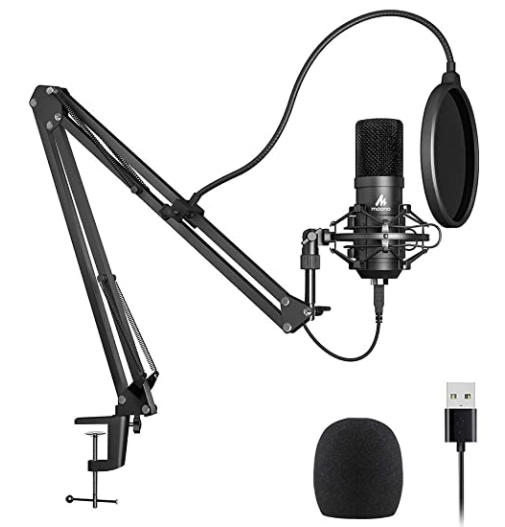 Maono AU-A04 has 16mm large diaphragm condenser with higher sensitivity which helps to record good sound and it also has 192KHz/24Bit which leads to High sampling rate.
            Maona AU-A04 has professional chipset by which it records HiFi Sound quality and it is digital recording microphone.
Maona AU-A04 provides crisper and clearer recordings because of cardiod Polar Pattern which effectively reduces noise interference on the back of microphone.
Easy to use because there is no need of any drivers just plug in and start recording even for laptop or PC any operating system is fine. Like Windows, MacOS, chrome, Linux, PS4, Mobile Phone.
Maona AU-A04 is really durable because microphone is made by metal and stand can withstand weight of 1-1.2kg. easy connection with USB-A to USB-B Cable.
Maona AU-A04 can response to flat frequency of 30Hz – 16 Hz this is frequency response is really good for singing voice over and speech.
This microphone come with pop filter & anti-wind foam cap these two helps when you use strong words which produce jet of air from your mouth it may create noise. Also these will protect from spit and moisture.
Microphone amazon price
            Maono AU-A04 Condenser microphone kit have discount of 50% in amazon you will get this microphone at 2999 rs only & the original price of this microphone is 5999rs.
Best Condenser microphone 2021
There are two types of mic available that is dynamic mic and condenser mic. Condenser mic are costlier than dynamic mic.
Dynamic mic has easy setup like coil and membrane no electricity needed so they can also use on stage.
But when it comes to condenser mic they are complicated design like membrane capacitor and many more. Capacitor are also called as condenser in olden days so these mics uses capacitors so they call it condenser mics.
Condenser mic are really sensitive there for they can record small details also so they can use to record crisp and clear voices.
Condenser mic have one disadvantage that it records small frequency also so it will record noise also so while recording in noise area condenser mic is not suitable.
Condenser mic are suitable while recording in indoor location without noise area even fan sound will record in it which give really harsh sound.
Compare to Dynamic mics, Condenser mics are really sensitive to moisture and dust so while using condenser mics you need to take care of moisture & dust so you should use it indoors like recording studio.
These type of microphones record low frequency sounds also so when you are using these microphones you get really good sound quality.
Maono au-a04 vs fifine t669
Maono AU – Ao4 is Better Microphone than fifine t669.
Maono AU-A04 Microphone review 2021
            Maono AU-A04 is really good for people who are starting their carrier or as hobby podcaster, story teller, or you-tuber etc.
First thing in this mic is the strong arm which is adjustable and second thing is the pop filter which helps to avoid split or moisture from your mouth.
Pop filter also protect when you are using hard words which makes blow a wind from your mouth that will cause harsh noise in recordings.
The pop filter combines with anti-wind foam cap protect main mic from noise and moisture all that will be good for mic recording.
It is really easy to use just one wire to connect to your laptop or computer to mic. That is really useful and also it doesn't require any drivers that is no need to install extra drivers. If you have windows, mac os etc it will work.
            I will tell my experience I ordered this for recording my digital marketing courses. Also my friend use this to record YouTube videos.
If you are taking online classes or making courses than also this mic is great use and if you are podcaster than also this is helpful.
Some people asked can we use Maono AU-A04 for singing my answer is yes you can use Maono AU-A04 for singing because my friend recorded his song for time pass but the outcome is best. It may not be as good as professional one but for beginners it is best.
Maono AU-A04 whole set up has good built quality it is maximum made up of metal so it seems durable and also well coated so no tension rust and all.
It has inbuilt chipset which helps to record high quality sound so ultimately output is really good.
You may be wondering I am telling only good points no disadvantages it has one major disadvantage that is you can't use it outside because it is little sensitive to air and moisture.
While recording you should record at quietest place possible because it even records my ceiling fan voice or you can say noise if I put fan speed more.
            Actually all condenser mics record noise so you should use it at quite place and Maono AU-A04 has pop filter and anti-wind foam cap which some extinct minimise noise.  
FAQ's:   
Is Maono AU-A04 good for singer?
Yes, it is good for fresher singer not so best for professional but it will work out because of noise cancellation and flat frequency response of 30Hz-16khz so this extended frequency response is excellent for singing.
            I will share my experience my friend love singing so recorded his song over this mic and he was inspired by it. This mic may not match the professional singing mic but they are best in affordable price.   
Are Maono microphone good?
Maono Microphones are really good in terms of features and pricing when it comes to all-rounder packages maono mic are best. Due to aggressive pricing maono mics are good but if you want a best mic than choose Maono AU-A04.  
Which is the best Maono mic?
            Maono AU-A04 is best among all due to amount and specification balance maintained other Moano products are also good but not best when compare with price.
Is Maono is a Chinese brand?
            Yes, it is Chinese brand from Longgang district, Shenzhen china.
what are the specification of Maono AU – Ao4?
            Maono AU-A04 Mic has accessories like microphone stand, table clamp, shock mount, cable, pop filter, and anti-wind foam cap.
            Microphone-core is 16mm diameter condenser, polar pattern cardioid, frequency response is 30Hz to 16Hz, sensitivity is -38dB+/-3dB, Equivalent noise level 16dBA Max, maximum SPL is 120dB, S/N Ratio is 70dB, Sampling Rate is 192kHz/24bit, cable is USB A to B 2.5m.
            Large capsule with plated membrane, cardiod polar pattern, ultra-low noise transformer less circuitry, New state of the art surface mount electronics.
            Heavy duty stain nickel finish, stable metal boom arm with pop filter, boom arm has 2-axis mount for good positioning.
            Built in sound card plug and play operation for PC, MAC.