Many of the bloggers neglect Blog description and they don't write a proper blog description and Search description.
Due to this they lose huge amount of traffic. So, Always try to write a good blog Description to your website or Blog.
If you write a good Blog Description it will helps in branding, SEO and also increases the traffic.
There are 2 Types of Blog Description:
1.Blog Description: It is a Type of Description is written to the Home page of the Blog.[Full Details Below]
2.Blog Post Description: It is Type of description in which description is written to each of the blog post.
Why Blog Description is important?
Blog Description plays an important Roles in many ways.
1.A Good Blog Description increases the brand and Trust.
2.It helps in SEO (Search engine optimisation).
3. It will increase in the website traffic.
4. It will increases the Impression and Increase the CTR(Click through rate) .
5.It will increases the SERP. (Since your CTR increase means it will increase the Ranking position).
Some Best Blog Description Examples
Example No. 1 : Teach Thought

You can see here the Blog Description Example: Teach Thought. In the Blog description. It is showing complete details about the website is about and what the mission of their website is about.
Category: Education Blog Description Example.
Example No. 2: Health line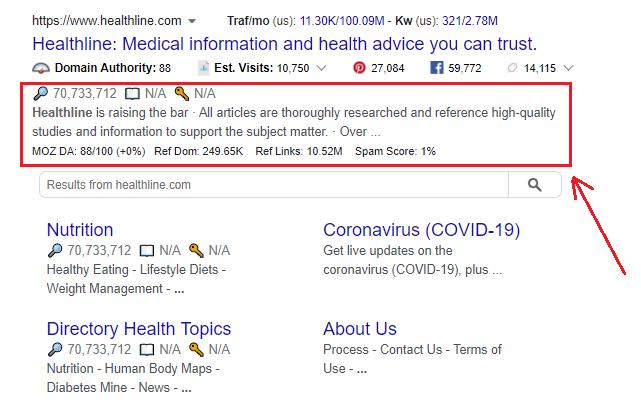 In this website you can see the blog Description which tells about health and fitness. The website owner is telling that all articles are properly researched and Write. You write in the same way. So that People can Trust your website.
Category: Health and fitness Blog Description Example.
Example No. 3: Akanksha Redhu

In this Blog Description you see that blog owner has written clearly about the website that this website is about fashion and Lifestyle.
Category: Fashion Blog Description Example.
Example No. 4 : theKitchn
In Thekitchn website you can see the blog description is about cooks and food recipes. So, the Description should be writtern in such a way that It should tell about what the Website is about.
Category: food Blog Description Example.
Example No. 5: Dan flyingsolo

In this website you can see The website is about travel photographer, travel blogger and travel guides tips Adventures stories.
Category: Travel Blog Description Example.
Example No.6: lifestyle blog description examples
In this website you can see The website is about travel photographer, Beauty, fashion and Home.
So, Now you have got Complete Idea How to write a Blog description to your blog.
Tricks and Tips for a Great Blog Description:
1.Add Social Status Like 1Lakhs People visit our website.
2.Use words Like Best way…
3.Use words Like Free.
4.Use word Like click here now to know..
5. Use words Like You can…
Blog Post Description: In the Blog post description you add description to each blog post.
Examples of Blog post description:

You can see this Blog post description should be writern different for each post.
How to write a Blog post description?
If you want add the Blog post description in the post. Then, You need to install SEO Yoast Plugin or Rank Math SEO Tool.
Go to wordpress Dashboard> Plugins> Add New SEO Yoast Plugin
Install the SEO Yoast Plugin.
In this way You can Write Blog description.
Some of the examples of Blog Post Description. If you want to publish Blog post description. First of all you need to go to the All Posts. Go and edit the Post.
Go the Yoast plugin (Present below the Blog post). Start Writing the Meta description.
Tips and Tricks for the Best Blog Post Description.
Some of the Best way to increase Impression and CTR for the Blog post description.
Write the Blog post description under 300words.
Use Persuasive words.
Use same Word used in the Permalink.
Use same Words as in the Blog post Title.
Use word like you and I.
What is search description in blogger?
Go the Blogger and To Blog post > Post setting> Description and Type your post description.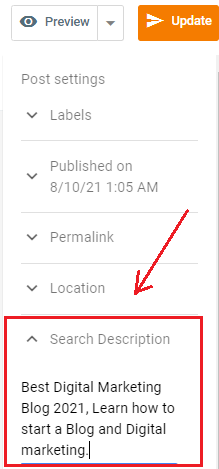 Now you got a Complete information how to Write the Blog Description and Blog Post Description.
Conclusion: A Good Blog Description Helps your blog or website in many ways. It should be short summary about the blog or website. It should be in such a way that it give details of the Required searched Query.
FAQ's:
What is a Blog Description?
A Blog Description is a Short Summary about the Blog or website.
What do you write in a blog description?
1.You write a Short explanation of your blog or website.
2.It should contain a Persuasive Words.
3.you can add Social Proof.
4.You can Author Name.
5.Add Less than 150-300words.
How do you describe a personal blog?
Go to the Blogger Dashboard> Go to Blog Post> Go to the Setting> description.
How do you write a good page description?
1.Write 150-300words.
2.Write Influencing words.
3.Write Call to Action Words.
4.Focus on Value Adding.
5.Use Focus Keywords.